God's Redemptive Plan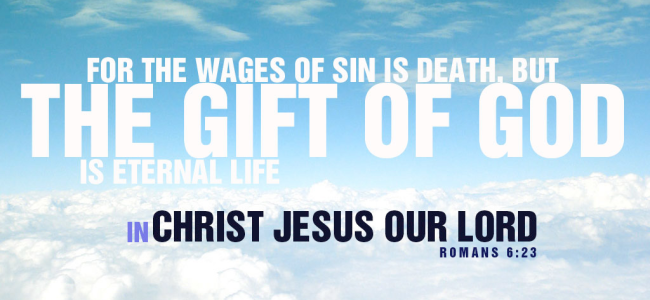 God's Redemptive Plan:
The Gift of God (Romans 6:23)
God created all things including humanity. In Genesis 3, the Scriptures explain that all mankind have a sinful nature, prone to do wrong and miss the standard of righteousness set forth by God's holiness. Romans 3:23 explains that "all have sinned and fallen short of the glory of God." Not only are all sinners, but "the wages of sin is death" (Romans 6:23).
God loves us and has "demonstrated His own love toward us, in that while we were still sinners, Christ died for us" (Romans 5:8). Christ came because "God so loved the world that He gave His only begotten Son, that whoever believes in Him should not perish but have everlasting life. (John 3:16). Jesus Christ lived in complete righteousness, took the sin of those who believe, nailed it to the cross, and was a sacrifice in their place so that they may have righteousness and life. "For he made Him who knew no sin to be sin for us, that we might become the righteousness of God in Him" (2 Corinthians 5). "For the wages of sin is death, but the gift of God is eternal life in Christ Jesus our Lord." Not only did Jesus Christ become our sacrifice, but also our victory by raising from the dead and defeating death. In 1 Corinthians 15 Paul explains that because of the resurrection believers say, "Thanks be to God, who gives us victory through our Lord Jesus Christ." (1 Cor. 15:57).
Regeneration, or the new birth, is a work of God's grace whereby believers become new creatures in Christ Jesus. It is a change of heart wrought by the Holy Spirit through conviction of sin, to which the sinner responds in repentance toward God and faith in the Lord Jesus Christ. Repentance and faith are inseparable experiences of grace. Romans 10:9 explains "that if you confess with your mouth the Lord Jesus and believe in your heart that God has raised Him from the dead, you will be saved."
If the Lord has saved you and you have believed and confessed that Christ is the Lord, then the Bible encourages you to be a part of a local group of believers called the church. "Now therefore, you are no longer strangers and foreigners, but fellow citizens with the saints and members of the household of God, having been built on the foundation of the apostles and prophets, Jesus Christ himself being the chief cornerstone, in whom the whole building, being fitted together, grows into a holy temple in the Lord, in whom you also are being built together for a dwelling place of God in the Spirit" (Ephesians 2:19-22).