A Seat at the Table"
By Kelly Leffel, wife of Ryan Leffel, Woodmont's Worship Pastor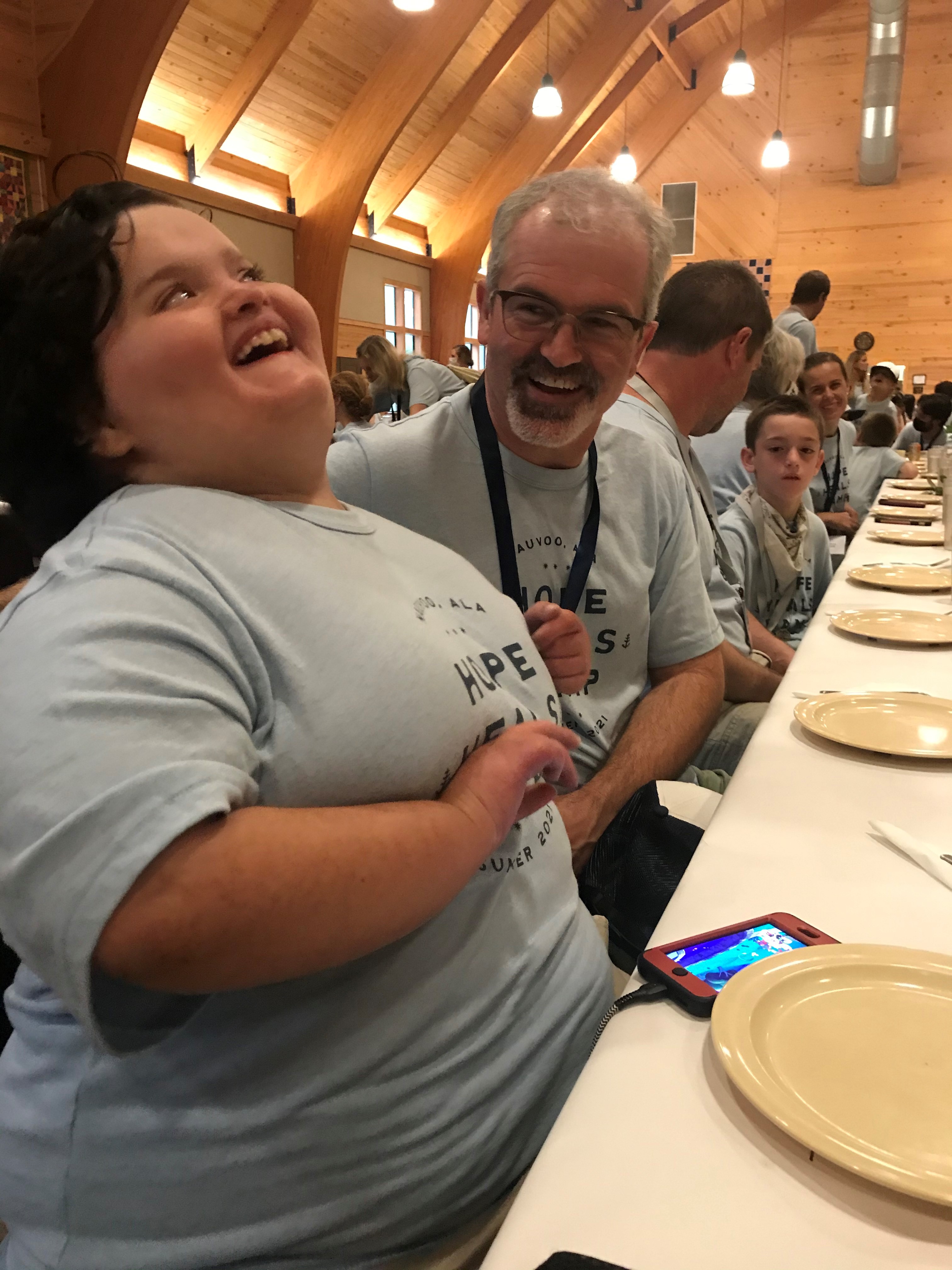 Our family recently had the privilege of attending Hope Heals Camp for the first time. What is Hope Heals Camp? It is "a week-long experience and year-round community of over 2,000 friends who are choosing to show up to their good/hard stories each day." Special needs individuals, families living with disability and countless volunteers attend camp. This amazing concept was birthed from tragedy in the life of the Wolf family when Katherine, a wife and young mom, suffered a near-fatal brainstem stroke that left her severely disabled. This also left her husband Jay to care for his wife and young son. Yet, that wasn't the end of the journey…God is writing a beautiful new story for their family, and fortunately they have chosen to come along side other families living with disability. Precious volunteers are invited to step into our world and serve the disabled and their families. Hope Heals believes, "the best ministry is mutual, and the strongest communities blur the lines between who is serving and who is being served". Encouragement, blessing, rest and HOPE are found within the Hope Heals community.
I wish I could go into more detail about what Hope Heals Camp means, but honestly words won't do it justice, and truthfully, I'm still attempting to digest all that was poured into me and presented to our family. However, if I had to give a description it would be this…a taste of Heaven. The Luke 14 Banquet was just that, a glimpse of Heaven. What is a Luke 14 Banquet you ask? I doubt I can adequately describe its beauty and significance, but here it goes.
Camp is in session from Monday afternoon until Friday morning, with the highlight being Thursday evening at the Luke 14 banquet. The banquet is based off of the Parable of the Great Banquet found in Luke 14:12-24. Picture a camp style dining hall transformed with flowers and lights and flowers and table settings and more flowers, every detail considered and lavishly planned for the guests. A delicious meal where dessert is served first because we shouldn't wait to celebrate! Under each plate is a word such as loved, seen, chosen and cherished…all descriptions of God's feelings toward His children. Add in hundreds of people…young, old, disabled, healthy, weak, rich, poor… all those created in the image of God. And finally, imagine hearts that have a connection with one another, a connection of suffering, trial, loss, BUT also hearts filled with love, joy and the HOPE of Jesus. Again, a small taste of Heaven.
A seat at the table for everyone is at the forefront of Hope Heals Camp. And of course for a family like ours that is a true blessing, because let's be honest, the world isn't really made for those who are disabled. (But please let me say that you, Woodmont Baptist Church, have done an amazing job welcoming Harrison…meeting his needs and loving him. Hope Murphy and her team have always made it possible for Harrison to be included and for that we are grateful!) But back to "a seat at the table". What if I/we approached sought out those who are tired, frustrated, different than us, walking thru a hard time, etc. and invited them to join us? What if we looked past our differences and saw that all those created in the image of God needed to hear His good news, especially in their suffering? What if we chose to serve others, even when it doesn't make sense? What if we chose to give more of our time and resources to bless someone else? What if we chose to look someone in the eye and deeply connect with them in their suffering? What if we share the good/hard stories that God is writing in our own lives with those who need to hear it? "And the master said to the servant, 'Go out to the highways and hedges and compel people to come in, that my house may be filled." -Luke 14:23